dvd 01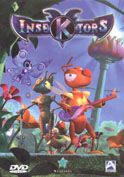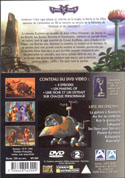 (Click the thumbnails for bigger scans)
On this DVD, you get the first eight episodes of the series:
La guitare à Kouleurs (The Kolour Guitar)
Au feu les jonKilles (Daffodil Kraze; cute pun... Original spelling of 'daffodil' in French is jonquille, 'qu' makes the 'k' sound.)
Koa la grenouille (Koa the Frog)
EsKapade ("Run away", basically, the equivelent of "The Eskape")
Des fleurs pour Bakrakra (Flowers for Bakrakra)
Planète Karbone (Planet Karbon)
Koléoptère (The Koleopter)
Katerpillar
Special Features:
This DVD has two special features on it: A clip of "The Making of Insektors", as well as profiles for each of the characters. It gives a short little blurb in each character profile, then you have the option to view a couple short scenes with that particular character in them. Very nice.
As for the Making Of clip, it shows a clip where Kretinus is running around, trying to find Lord Krabo. It shows multiple storyboards, rough sketches, voice tests (how they matched the mouth movements to the voices), and even how they made the 3D model of Krabo.